A Life Changed Forever!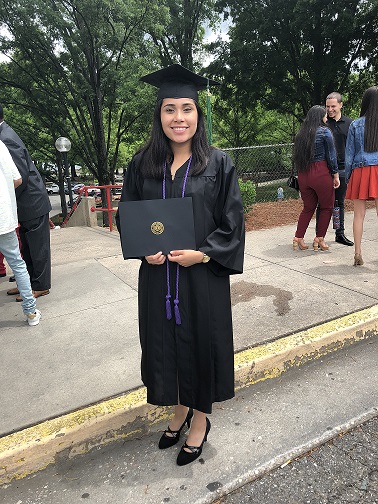 Leida, Class of 2016
When Leida first came to Circle de Luz one could describe her as a quiet and shy 7th grader. Throughout her 6-year journey with us, Leida got exposed to many developmental opportunities that ultimately would support her amazing transformation. In her High School senior year, an inspiring young woman stood at graduation full of dreams and aspirations ready to take on the world.
Leida knew in her mind and heart what her path needed to be. She attended Central Piedmont Community College (CPCC) immediately after graduating from High School in 2016. During her 2-years at CPCC Leida explored many courses and left her mark as a passionate and empowered young woman. This past May, Leida graduated from CPCC with the honor of being part of the Dean's list.
After all her hard work and commitment to her education, it was no surprise to hear that Leida was a recipient of the Golden Door Scholarship, a national merit based scholarship awarded to high performing DACA students. This scholarship would allow her to attend any private University of her choice in the near future. As she was looking at the road ahead, Leida applied to several Universities that would give her the opportunity to reach her objective of becoming an agent of change in her community.
We are excited to announce that Leida has accepted a full ride to Emory University in Atlanta, Georgia. She will begin her first semester this upcoming fall, and is excited to pursue a career in Economics.
We couldn't be prouder of the so many accomplishments Leida has achieved. We are so thankful for having the opportunity of being part of Leida's growth from a shy, timid young girl, to an empowered, strong, and courageous young Latina woman. We know Leida has only begin to scratch the surface, and can't wait to see what amazing changes she is capable of creating in our world.