Spring Programming & Partnership Highlights
June marks the close of our 2022-2023 programming year. This year, we hosted nearly 60 programs across four classes, with 31 of those programs being held this spring. From Charlotte-based arts and culture experiences to professional development, leadership, and communications workshops, students had the chance to deepen their relationships with themselves and with each other.
We are so thankful for all of the organizations and donors whose partnerships made these programs possible!
---
Arts & Culture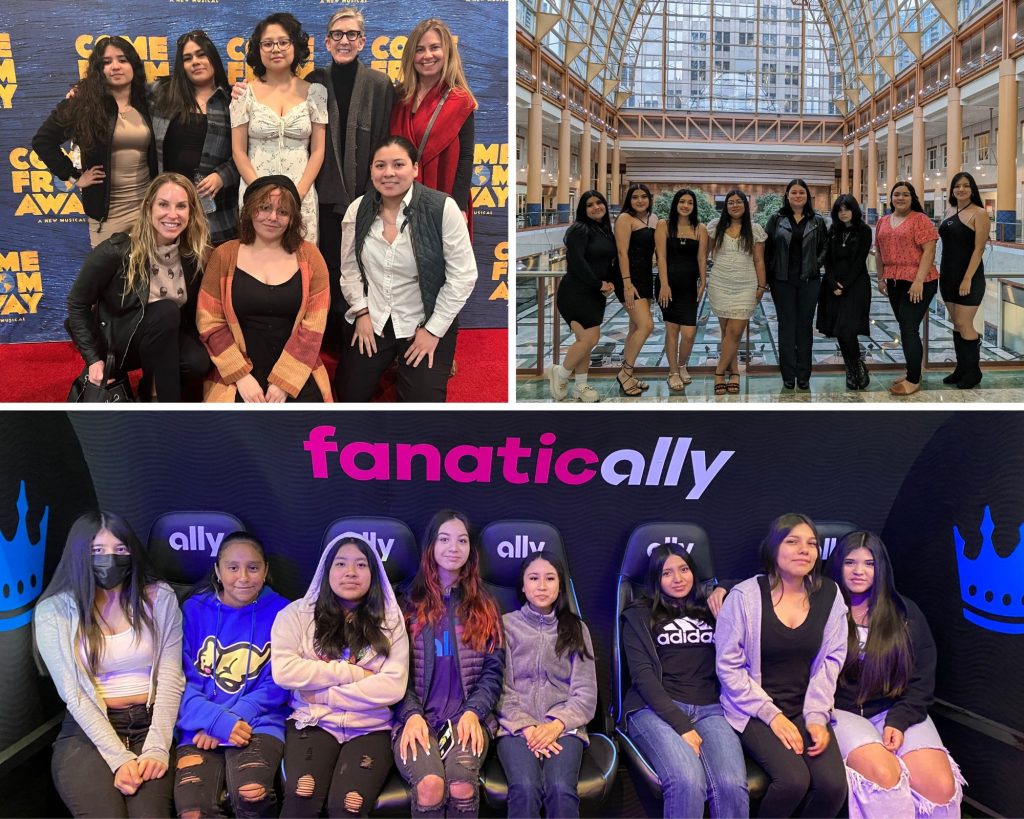 The Class of 2023, pictured top left, and the Class of 2024, pictured top right, attended Broadway productions at the Blumenthal Performing Arts Center this spring through their Arts for All Program. Our seniors enjoyed a heart-warming and powerful story about community through the performance of "Come From Away," and our juniors were in awe of the beautiful visual and musical storytelling featured in the performance of "Aladdin." The Class of 2028, pictured below, were beyond excited to attend their first Charlotte FC game. This experience, provided by Ally Financial, was particularly special for one of our Hijas, who dreams of becoming a professional soccer player.
---
Professional Development & Career Exploration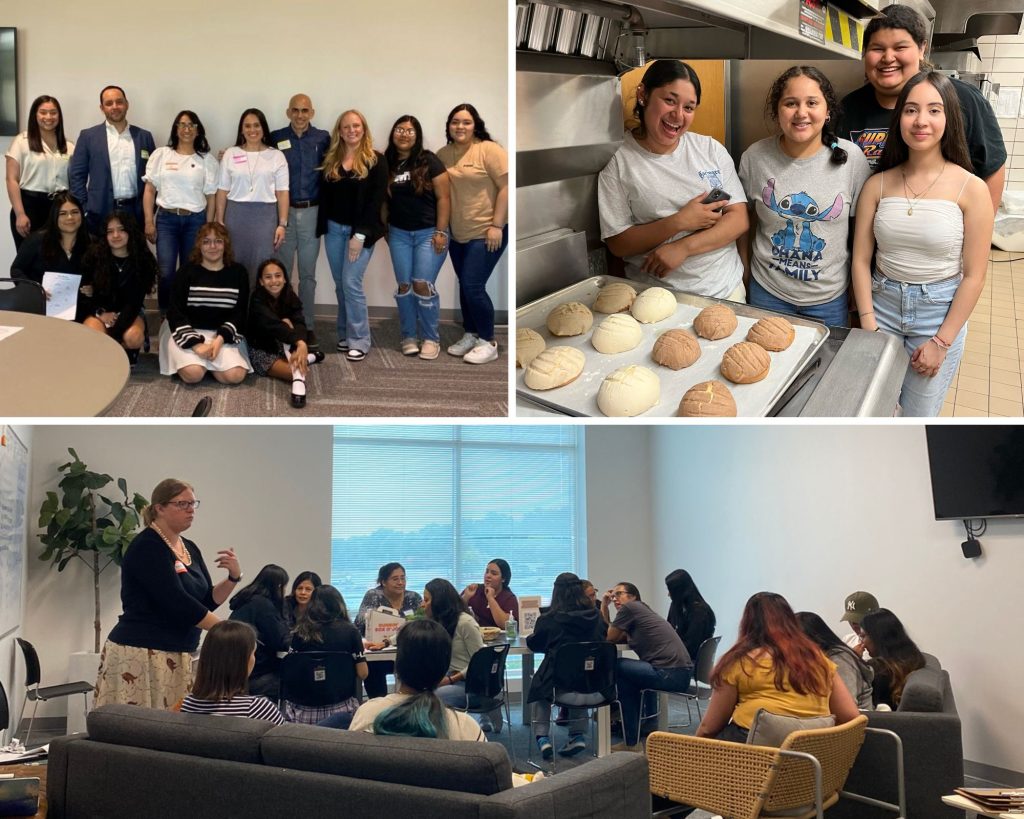 Our high school classes experienced a diverse range of hands-on career exploration and preparation programs. All three cohorts continued to prepare for their next steps after high school through the Adelante: College and Career Pathways programming series, pictured below. In March, Ally Financial in partnership with the Association of Latino Professionals of America (ALPFA) led our juniors and seniors through a professional development workshop, pictured top left. Students had the opportunity to reflect on and explore their professional skills and interests, as well as practice their interviewing skills through collaborative, hands-on activities. As the spring season came to an end, our sophomores, pictured top right, had the opportunity to learn about small business ownership and following your dreams with local, Latina-owned bakery, Dulce Dreams Cafe.
---
Personal Growth & Relationship Building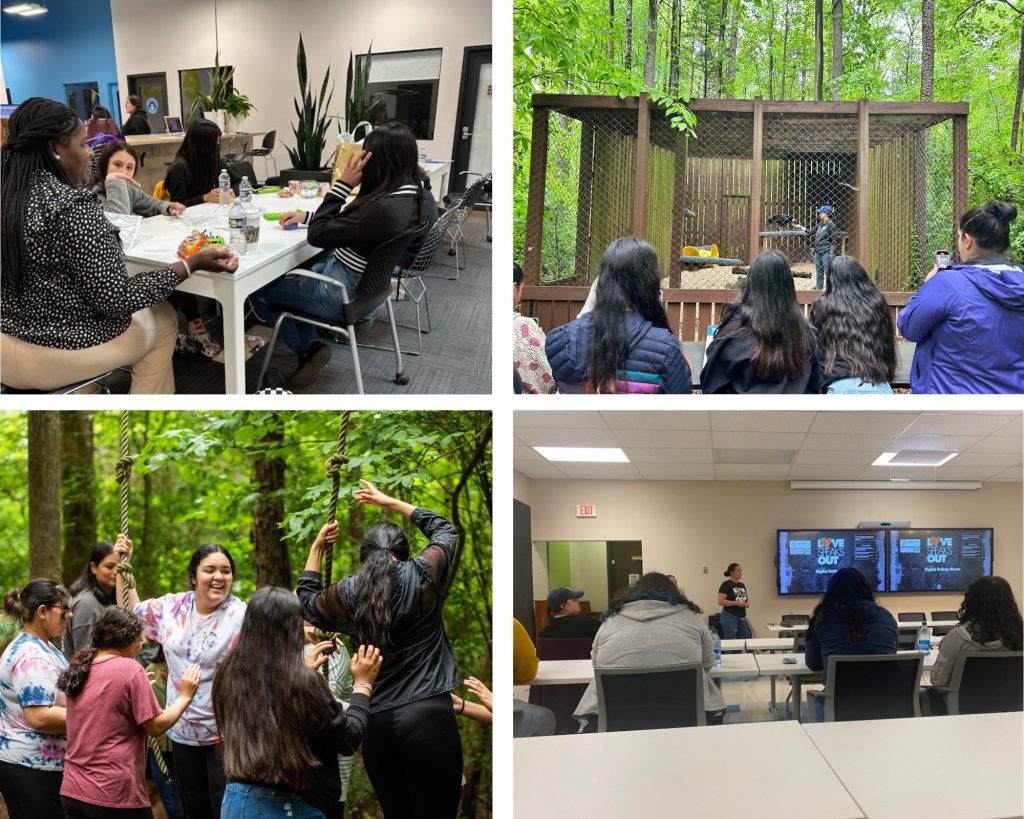 This spring season, our students worked hard to invest in their relationships with themselves and others. All Hijas kicked off the new year by learning about the mind-body connection and discussed holistic approaches to health with National Board Certified Health & Wellness Coaches from Sophrosyne Wellness. The Class of 2028, pictured top left and right, learned about the foundations of mental heath and self-care from local mental health counseling collective, 3C Wellness; explored their relationship with the natural world with the local non-profit, Carolina Raptor Center; and practiced strategies for communicating with others and resolving interpersonal conflicts. The Class of 2025, pictured bottom right, engaged in conversations about healthy relationships with teen dating violence prevent program, LoveSpeaksOut. All four classes, pictured bottom left, also had the chance to deepen their relationships and learn to rely on one another as they navigated ambitious ropes courses and team-based challenges facilitated by the University of North Carolina Charlotte Outdoor Venture Program.
---
Community & Family Engagement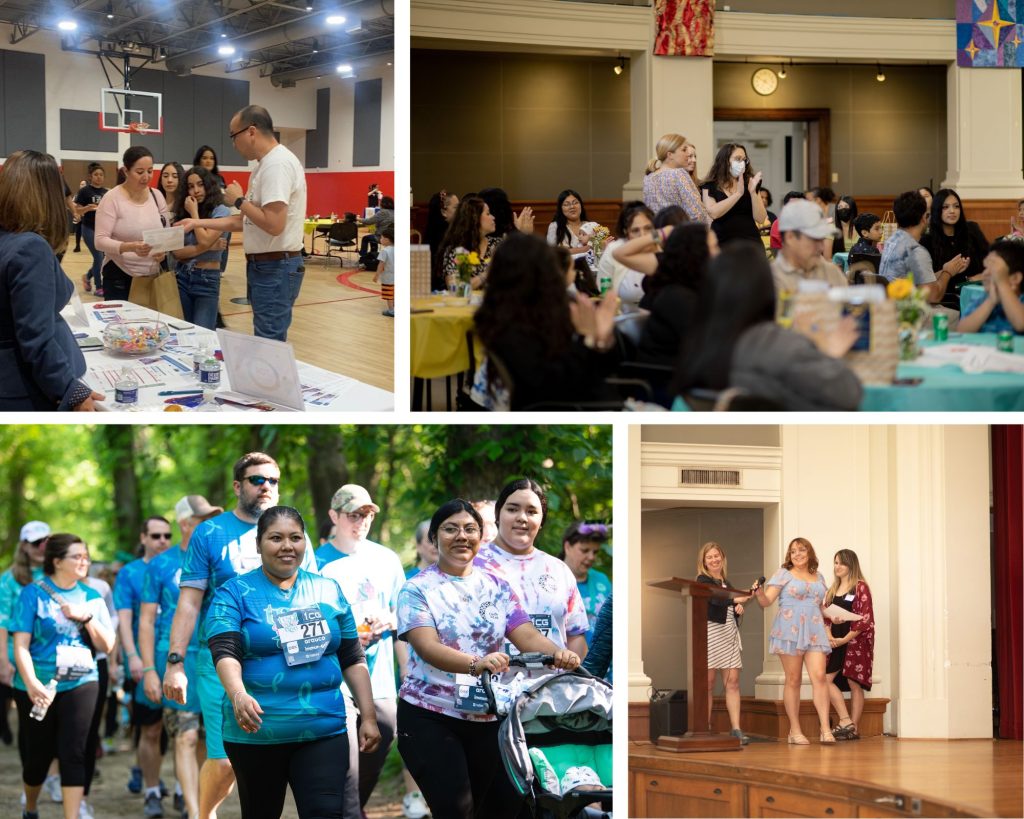 While our schedules were packed this spring, our hearts were full thanks to the many opportunities to be in community with one another. Circle de Luz students and families had the chance to come together and connect with our incredible network of community partners at the Community Resource Fair in March. This event, pictured top left, was hosted in partnership with Forest Hill Church Eastland Campus and The Movement School. It featured twenty community-serving organizations that provide a diverse range of resources, services, education, and support. In April, the Circle de Luz network, along with students and families, came together again in support of women's reproductive healthcare at the Teal Diva 5K for Ovarian and Other Gynecologic Cancers, pictured bottom left. We reflected on and celebrated the end of year at our annual program, State of the Circle. Pictured top and bottom right, this program featured speeches from student representatives across all four classes as well as a community dinner, Circle de Luz trivia, and more.