Class Captain and Mija of the Week – Barbara Randolph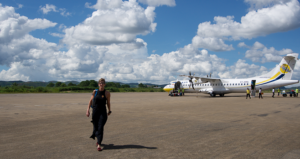 "Our greatest human adventure is the evolution
of Consciousness. We are in this life to enlarge
the soul, liberate the spirit, and light up the brain"

Tom Robbins
Why do you love being part of Circle de Luz?
I really do believe that positive change comes from women leading and to the extent we can empower young women and girls, we amplify that ability and power. Ground level work is critical however. Through Circle de Luz, I am convinced our efforts toward exposing the girls to new opportunities, giving them a safe space to express their concerns and views, and building their confidence to shape their goals and find their voice, we will launch a new generation of mentors and leaders.
What has been one of your most memorable memories?
One of my favorite memories of the year was watching the girls attempt the High Ropes course in Davidson College and push themselves newly, each in their own individual way. I noticed a big change from a shy and hesitant class on the first Out of School Program. I was thrilled to see them with a greater level of confidence to recognize a challenge and go for it.
Tell us something about yourself …
My work today resides principally in advocating for the immigrant communities in the northern corridor, medical interpreting for the Ada Jenkins Medical Clinic, mentoring for Circle de Luz and Chidsey Leadership Fellows for Davidson College, Member of the Steering Committee for the Community Collaborative for Economic Mobility of Davidson, and member of the Precinct Dems 206 Team that seeks to gather and galvanize every Democrat and unaffiliated voter in the local and surrounding precincts leading to the state midterm elections in 2018, and then the big show in 2020—and beyond, in order to affect political change! A personal passion my whole life? — Open Water swimmer, distance runner, rower! Those things have kept me sane.
Don't miss your opportunity to be a change agent in the life of a young Latina girl. Sign up to be a mija today!