Class Captain and Mija of the Week – Danielle Kosir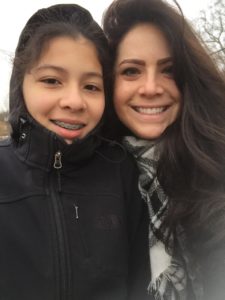 "One person can make a difference,
And Everyone should Try"

John F. Kennedy
Why do you love being part of Circle de Luz?
I joke that I didn't choose Circle de Luz – it chose me. I learned about the organization a few years ago while I was working as a reporter for a local TV station. I was assigned to do a story about Circle de Luz and spent a day interviewing a class captain, an hija and immersing myself in the organization's mission. I remember getting goosebumps when the class captain got teary eyed during the interview – she showed so much love for the hijas and genuinely cared about their success. With its long-term class captain commitment and small class sizes, the organization is intentionally designed to allow for intense, holistic mentoring of young Latinas. Let's face it – middle and high school can be brutal. I'm so grateful we have the opportunity to walk with – and support – these young women through this phase of their life. This design also allows for the program to have a multi-generational impact, which resonates with me personally. I'm half-Latina, and the daughter of a former immigrant worker. My mom never let a day pass without giving me what she never had – the freedom to dream big and the resources to turn my dreams into a reality. As a class captain, I'm grateful for the opportunity help empower these young women, just as my mom empowered me. Goosebumps-worthy, indeed!
What has been one of your most memorable memories?
My favorite memory from the past year was our trip to the ice skating rink in Uptown. None of the hijas had ever been ice skating, and we weren't quite sure what to expect. I loved seeing the hijas come out of their comfort zone and come together on the rink, leaning on one another for strength. I don't think any of us stopped smiling that day.
Tell us something about yourself…
I'm the proud mom of a spunky son, and two spoiled dogs. My perfect day would include reading by the pool, riding my bike on the greenway and playing board games.
Don't miss your opportunity to be a change agent in the life of a young Latina girl. Sign up to be a mija today!